Odyssey Landscape is highly experienced in the installation of biofiltration basins and the associated permeable gravel, perforated drainage pipe, geomembrane liner, planting media, irrigation, and hydrophytic vegetation that make up the biofilter.
Drainage biofiltration basins utilize the temporary retention of stormwater within the ponding zone to filter out pollutants as the water filters down through the sand media to the drainage zone.
We have multiple suppliers throughout the East Bay and Central Valley with certified Planting Media.
Certified planting media is an optimal blend of sand and compost components that meets or exceeds the hydraulic conductivity infiltration rates required by Contra Costa Stormwater C3 requirements; an industry standard in our region.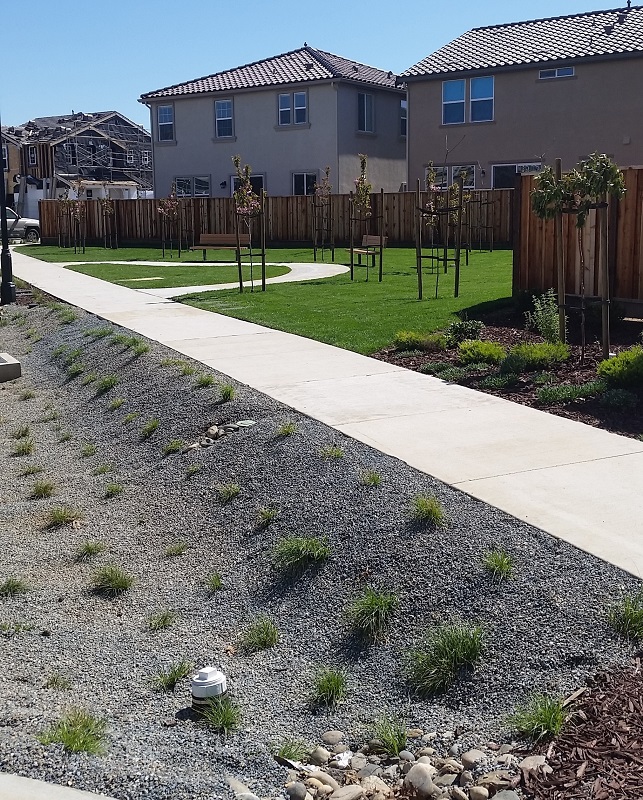 Over the last few years, we have completed dozens of biofiltration basin projects ranging from large housing developments to private industrial and commercial facilities to intermodal facilities.
Whether it's dozens of small interlinking basins or one huge basin, we've done it and can utilize our experience to ensure your project is completed on schedule and under budget.
Please see the photos below for some of the projects we've completed in: Livermore, Manteca, Tracy, Lathrop, Stockton, Brentwood, Martinez, Fairfield, and many other locations in our broad service region based out of the San Joaquin Valley.
For more information contact us at:
estimating@odysseylandscape.com